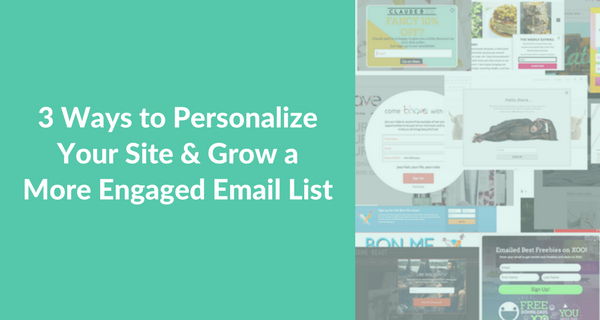 Note: This is a guest post from Privy, who offers simple, powerful tools to grow your email list and convert website traffic.
In 2016 it became clear that email marketing has seen a second coming - thanks to marketers acknowledging the power of one-to-one marketing.
It makes sense that marketers see better results when they tailor communications to individual subscribers, instead of just mass sending content and hoping for engagement. So wouldn't it also make sense that tailoring the on-site experience for viewers, particularly when it comes to asking them to join your email list, would also lead to better results?
When a consumer grants you their email address, they are offering explicit permission to enter their inbox, and an unprecedented opportunity for you to build a relationship with them. By growing a list of the right subscribers in the first place, you're all the more likely to be able to deliver dynamic content that meets their specific needs and interests.
Additionally, you may have built the perfect landing page, and have an excellent content or product offering, yet 98% of visitors could still leave your site before completing a purchase. Capturing their email address gives you a chance to nurture these otherwise-lost leads back to your site, and—using data to send personalized, relevant emails to those recipients—close the sale down the line.
So how do you grow a quality email list? As an email marketer you're not just batch sending emails anymore; you're treating each subscriber as an individual. Gaining their email address should be just as much of a personalized experience as well.
Fortunately there are a few simple ways you can personalize the on-site experience for your unknown leads. Try one of these three options and see which drives the most relevant signups for your brand.

1. Messaging: Be Specific
The easiest way to prompt viewers on your site to sign up for emails is by using simple forms, popups, banners, or bars that present a seamless opportunity to enter an email address and continue shopping. What sets your popup or email collection bar apart from generic forms is the messaging you use to attract the right subscribers.
You can use snarky or humorous text that invites subscribers to join your list, or a simple 'join our email list' may suffice for your audience. What makes all the difference in adding high intent subscribers is clearly conveying exactly what they will be receiving for joining your list, and how often.
By doing so, you set the expectations for your growing list, and subscribers are more likely to stay engaged when you deliver it – whether it's the promise of a first time shopping discount in turn for their email, or just a weekly newsletter with related content they are expecting.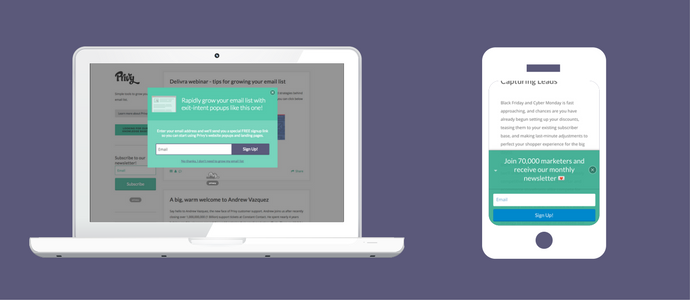 2. Target Your Audience
Since you can only make assumptions about your audience based on a few nuggets of valuable information, such as location, source, device type, or visit number, capitalizing on what you do know can make all the difference in growing your list and identifying compatible leads.
For example, visitors who have been directed to your site through specific ad campaigns, and visitors who are repeat customers on your site offer two completely different opportunities to personalize an on-site experience.
If a customer clicked an ad for a sweater, it might make sense to show them 10% off their first purchase in exchange for their email; whereas the return customer could be shown your newest products when they come to your site. Then, a delayed popup prompting them to sign up for your email list could let them know they could be the first to know when new products are added to the site – for being an exclusive email insider.
One of the best ways to target your traffic is simply by differentiating the experience for a mobile viewer versus a desktop visitor. Given Google's latest updates for popups on mobile, a subtle bar may do the trick. On desktop, you can still try out different techniques, such as a time delayed popup.
What works best for your customers and your brand can only be found after a little testing, but by personalizing the experience for different visitors you can start your relationship with them on a more personal note.

3. Triggers: Timing is Everything
Apart from crafting the messaging specific to your audience and where they came from, another way to personalize you opt-in campaign is with well-timed opportunities.
Think about yourself as a consumer on your site. If you're going to receive 10% off and a monthly newsletter for signing up, you may want to join the email list right away or just a few seconds after being on the site. But a display could be triggered after a time delay, or after a visitor has scrolled a certain percentage of a page.
If you have a blog on your site, try using a scroll percentage to trigger your email popup, flyout, or bar after a visitor has read through a certain amount of your blog post. This reader shows high interest in what you have to offer since they are actively consuming information you have made available for them, and may be interested in more related content.
Or, if a visitor is indicating they might exit your site, triggering a popup as a final attempt to grab their email could turn a lost visitor into a last-minute subscriber.
This is just the tip of the iceberg when it comes to tailoring the signup flow for your future subscribers, but in the spirit of more a personalized marketing approach, building a stronger list will provide a better foundation for your efforts.
When you begin with a more engaged list and immediately begin your relationship with each individual subscriber on a more personal level, one-to-one email marketing has the potential to be more effective.