If you're a startup, there is probably one initiative that is always a priority: growth. Whether it's getting your app out there, demo-ing your new B2B software, finding more consumers to purchase your product, or having more users sign up for your service, you need lots of traction.
One of the biggest ways to drive growth for your startup is by creating a website experience that sells your idea. The best startup websites sell their company in a clear way, engage visitors with visuals, and drive a call to action. Think of your startup website like a digital and visual version of your startup sales pitch.
The sections of your landing page should follow the structure of your sales pitch:
1. Elevator pitch
The first section of your website landing page should have top line copy with your tagline or one sentence elevator pitch. The second line should be a value prop or immediate call to action (demo, sign up, download).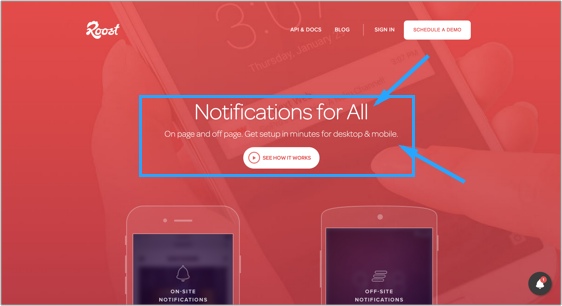 You can see that in this landing page there is a clear, concise tagline followed by a short two sentence description.
2. Explanation and features
If you have a video that explains your product, service, or vision, it should go immediately after the first section. Once a visitor watches it, there should be a call to action immediately following. If you don't have a video, use this section to explain what your startup does (i.e. use cases, features).
3. Value proposition
The following section on your landing page should outline your startup's value proposition. This should generally fall into 3 or 4 "mini sections" or bulleted lists that explain what value your product, service, or company brings to your target audience.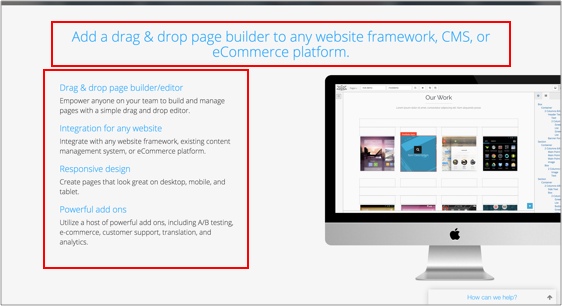 Here you see a header to show generally what the offering is, and a few points below to explain a little about how it works.
4. Validation
Press and/or testimonials should be the next section for your website landing page. Now that you've stated that your startup provides value, you want credible and legitimate sources to back up your statements. A press bar with news articles, or the logos of current clients will help establish legitimacy as a company and a product.
This is a combination of a quote from a legitimate news source, followed by a grid of logos of other press releases and publicity received.
5. Call to action
The last section on your website landing page (besides your footer) should be a final call to action to move the visitor to demo the product, sign up for the service, buy the hardware, download the app, etc. There should be many opportunities to engage with the call to action on the page, at the top, interspersed throughout the sections, etc. in the form of buttons and forms. However, if the visitor missed any of those, this last one should be perfectly clear about the next step.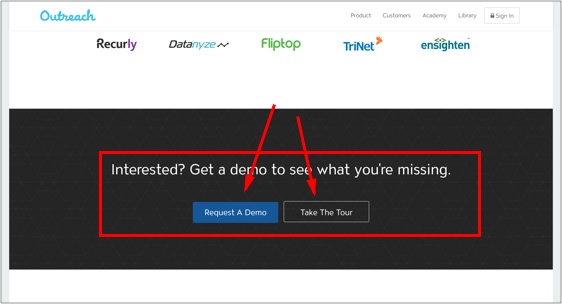 You can see here very clearly what the next steps are for the user.
So if you use these basic 5 sections in your landing page, you will have the beginning to a great landing page. You should make sure that you continually test different combinations, copy, and placement to optimize your landing page conversion.