Optimizing e-Commerce websites for SEO (Search Engine Optimization) is much harder than it is for other websites. Numerous product pages can actually do more harm than good when it comes to SEO. In this blog, we will review 5 mistakes that kill SEO for eCommerce websites.
1. Incomplete Product Descriptions
A problem usually seen in eCommerce gift and clothing retail stores, lack of a written description of the item takes the page out of contention for the top 10 search results, even for low volume queries. By adding a product description, you'll greatly increase your page's chances of coming up higher in search results.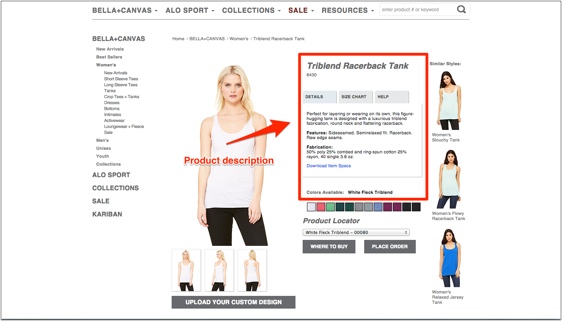 Remember, search engines cannot see images, so including a a product description and details about your product will boost that page's SEO.
A best practice for measuring how much content you need is to determine the standard word count of an unpopulated product page. Tally the number of words written in the header, footer, sidebar, and any page text. Ensure that the word count of your original content on each page exceeds the standard text word count; this way it will carrier heavier weight with SEO.
When writing your unique page content, keep these general rules in mind:
Make sure that your unique content is relevant to the customer, and their purchase.
Too much content for SEO purposes can hurt you if it adversely affects purchases conversion.
Search engines can detect when you have simply copied content from other sites. Don't do this.
2. No Product Reviews
The great majority of buyers want to read a product review before they make a purchase decision. If your eCommerce website has no product reviews, many consumers are going to be turned off to your store. Beyond that, product review pages are more likely to achieve higher search results than selling pages.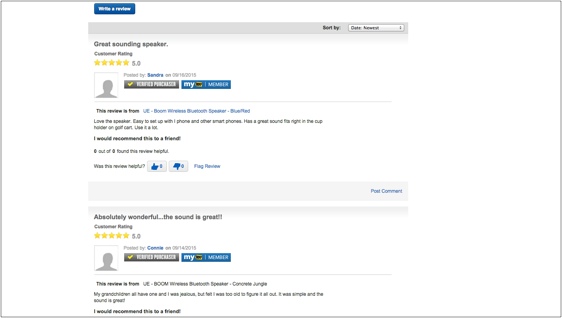 Best Buy allows their customers to leave product reviews. In doing so, they have created value through a community of electronics enthusiasts.
Here are two major benefits of product reviews:
Free unique page content!
Constant page updates via product reviews is great for SEO.
3. Manufacturer Product Descriptions
Using a manufacturer's product description can get your eCommerce site banned from search engines. Manufacturer descriptions are distributed to countless online stores left in their verbatim text, which is generally ineffective for selling products. Because these pages have non-unique content, they are filtered by Google, and dropped in the page ranking because of duplicate content.
4. Duplicate Content
Your eCommerce site can actually get sanctions because of duplicate content. Duplicate content should not be indexed by search engines and must be closed in robots.txt.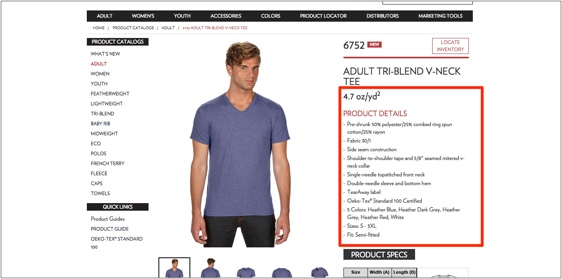 This duplicate item description appears on many pages an online retail store.
These 3 tips from Kissmetrics for minimizing duplicate content can help your SEO efforts:
Use the canonical tag to indicate which web pages are the pages you want indexed.
Use robots.txt to block areas that create duplicate content such as archives, tags and even category pages in some cases.
You can add nofollow attributes to links that point to areas of duplicate content.
5. Anonymous Product ID URLS
Anonymous Product ID URLS can be very harmful to SEO, so it is important to use a keyword friendly URL. He is an example of a keyword friendly URL for a Daniel Wellington Dapper Bristol watch in the color silver: https://www.danielwellington.com/us/dapper-bristol-silver.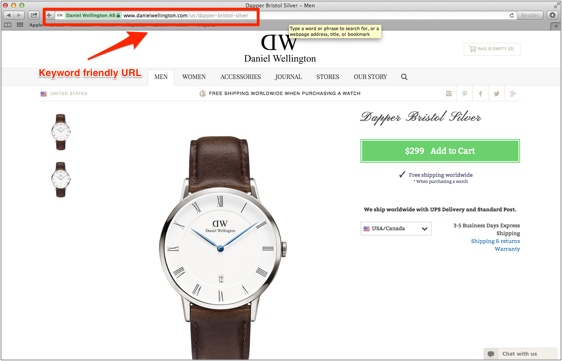 The name of the company, watch model, and color of the watch is right in the URL. A keyword friendly URL makes the profile unique for the search engine.
Here are the 2 reasons that you should use keyword friendly URLs.
Simple Logic: Having a keyword friendly URL lets the consumer know what to expect when they click the link.
Keyword & Anchor Link Luck: If you have a keyword friendly URL, there is a chance that the URL will be reposted by another website. Getting keywords within anchor text that points back to your website will drive pagerank.
Source: 7 Critical SEO Errors of E-commerce Websites by Sean Work and Korah Morrison